Welcome To Hoffman Porsche Service Center
At our Porsche Service Center near Hartford, CT our dedicated staff works relentlessly to maintain the high-performance engines of our customers' premium luxury vehicles. Our certified Porsche technicians are trained at Porsche technical centers, where they develop unrivaled expertise in all aspects of maintaining and servicing Porsche vehicles. No matter if you're looking for routine Porsche maintenance, like an oil change, or something more extensive, the Hoffman Porsche service center is here to assist. You can book a service appointment online or call us at 860-289-7721 and one of our Porsche service advisors will be happy to help you set up your appointment.
Genuine Parts, Tires, & Oil
In a high-performance sports car, all parts work together seamlessly for a unique, safe driving experience. With Porsche Genuine Parts, tires from selected partners, and the right engine oil, the performance of your vehicle will last longer and maintain its value.
Service & Maintenance
From servicing and maintenance to premium repair, we take complete care of your vehicle from start to finish. Through consultation with your Porsche Service Advisor, we'll address any concerns you may have.
Warranty & Vehicle Information
Every new and Approved Porsche comes with a warranty: a warranty you can even extend for up to 15 years. With that in mind, we are with you every step of the way. Contact us today to learn more about Porsche warranty.
Hoffman Porsche Offers Convenience

If you are looking to have your vehicle serviced but have concerns about leaving your home, Hoffman Porsche offers complimentary pickup and drop off. One of the many benefits of servicing with us, this includes one of our Service team members bringing a loaner vehicle to your residence or office, driving your vehicle to our facility for servicing, and returning it once it's complete. Free of charge, we want your experience to be a pleasurable one, taking the worry out of traveling. 
Sanitization Is Top Of Mind
Keeping you safe is our top priority, that is why we offer contact-less service. In addition to free pickup and drop off of your vehicle, we sanitize all touch points prior to delivering your car to you. We want to make sure you receive it cleaner than when we picked it up. To further protect you, our associates consistently wear Personal Protective Equipment (PPE) including masks, gloves, and utilizing vehicle interior coverings where appropriate. We want you to feel safe when servicing with Hoffman Porsche. Please call us today to schedule an appointment or use our convenient online scheduler.
Pick Up & Delivery Service Available For Your Porsche Vehicle
At Hoffman Porsche, we are committed to offering unique customer service for a professional, trouble-free experience. We strive to offer our clients exceptional services such as complimentary pickup and delivery service. Does your Porsche vehicle need to be serviced, but you are unable to bring it to us? At Hoffman Porsche, we pick up and drop off to your home, garage, or place of business when your vehicle needs service. With our pick up & delivery service, we will come to retrieve the car, perform the service, and return the car at your convenience. 
Service Hours
Monday - Friday

7:00 am - 5:30 pm

Saturday

7:30 am - 12 pm

Sunday

Closed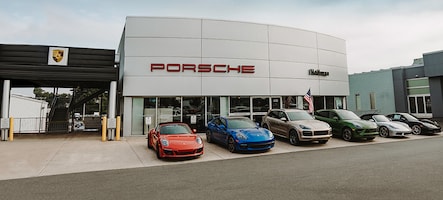 Hoffman Porsche
Local Porsche Service Center
Serving: East Hartford, CT
Local Phone: (860) 282-0855
Directions to Hoffman Porsche
630 Connecticut Blvd, East Hartford, CT 06108
Wheel Alignment

|

Oil Change

|

Brake Service

|

Tire Rotation